Part D Prescription Drug Plans in New Mexico
Part D of the Medicare Legislation regulates Prescription Drug Plans which are often referred to as "PDP's." This Medicare prescription drug coverage is private insurance that covers both brand name and generic prescription drugs at participating pharmacies in your area.
Medicare prescription drug coverage provides protection for people who have ongoing drug costs, as well as protection from unexpected spikes in prescription drug bills in the future.
Money Saving Tip: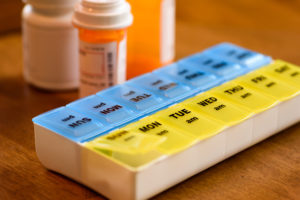 Be aware that filling a prescription at a "preferred" pharmacy could save you a huge amount of money.  Some drug plans have a large number of participating "network" pharmacies but also have a much smaller number of "preferred" pharmacies. While both are covered under the Medicare Part D drug plan, you will pay dramatically lower copays when buying from a preferred pharmacy.
For example, one popular drug plan has you pay just a $1 copay when you purchase from a preferred network pharmacy but purchase from a non-preferred network pharmacy and you'll pay $10.
How does Medicare Part D - the prescription drug plan (PDP) - work?
Medicare Part D provides several aspects of coverage:

• Deductible (optional)
• Initial Coverage Period (with Tiers, Copays and coinsurances)
• Coverage Gap famously called "The Donut Hole" (with discounts from the drug manufacturers)

Sorry, no actual donuts provided!

• Catastrophic Coverage (your share is limited to a maximum of 5% of drug cost)
How much does a Medicare Part D New Mexico drug plan cost?
In 2018 the lowest cost prescription drug plan in New Mexico starts at $20.80 per month with prices going up from there—depending on coverage. In addition to the monthly premium, the yearly deductible is anywhere from $0 or $405 for 2018, depending on the plan you have selected. You will also pay a part of the cost of your prescriptions, including a copayment and/or coinsurance.
Which Medicare Part D New Mexico plan should I buy?
I will match you with the best Medicare Part D New Mexico plan available. The best plan for you will depend on your needs and which prescription drugs you take. Since these plans change annually and your medications may also vary over time, our office can analyze which plan currently has the best value for you and enroll you at no additional cost.
Can I Switch Medicare Part D Plans Once I Make a Decision?
You can switch plans during the annual open enrollment period, which runs from October 15 to December 7. After that you will, generally, be locked into your plan and not able to switch until the next open enrollment period rolls around.
Is there any help that is available for those with low incomes?
If you have limited income and your drug expenses are especially high and you are in danger of going into the coverage gap (also known as the "donut hole"), click here and scroll to the bottom. There you can see if you qualify and apply for Extra Help. If you need help with applying for Extra Help I would happy to meet and do this in person. The Senior Health Insurance Program (SHIP) has a statewide network of New Mexico offices that will assist with an application for Extra Help.
Below is the qualifying income levels of Extra Help.
Review the Part D Eligibility and Income Chart HERE
Am I able to go to any pharmacy I want?
No, your prescriptions must be purchased from a participating network pharmacy. This should, generally, not be a problem as most plans have very extensive pharmacy networks.
Often, the very best savings come when the insurance company offers to provide the drugs from their own mail-order pharmacy. Even here, however, you need to be careful, as mail order is not always the best deal. We have found that the cheap generic drugs—tier 1 and 2—are usually least expensive from a mail order pharmacy while the more expensive ones—tier 3 and higher—can actually cost more when bought through the mail. So, be aware and be a smart, savvy consumer.
What Are "Formularies"?

 

A drug formulary is simply the list of drugs that an insurance company has decided they will cover. Medicare Part D rules require that each plan must include a minimum of two drugs in each "therapeutic class" of medications. Suppose there are 10 drugs that are appropriate to treat a certain condition. An insurance company could authorize all 10 of those drugs to be included in their formulary or they could authorize as few as two. Only drugs that are part of the formulary will be paid for by the insurance company, unless they grant you a special exception.

 

What Are "Teirs"?

 

Once the insurance company has determined which drugs will be included on their formulary, they next subdivide the formulary by sorting the drugs into separate "buckets" based on how expensive those drugs are. Insurance companies call these buckets 'tiers.'

 

The cheapest drugs, typically called "preferred generic", are put into tier 1. The next cheapest drug, the plain-Jane "generic", will be tier 2. Then we get into brand names and specialty drugs—tiers 3, 4, and 5. The amount that you will be asked to pay at the pharmacy will be determined by the tier of your drug with the lowest tiers costing you the least amount.

 

Naturally, you should seek to get the lowest tier drugs that will still take care of your condition, as agreed to by you and your doctor.

 

I'm not taking any prescription medications. Wouldn't it smarter to wait to buy Medicare Part D until I start taking medications?

 

You could wait until you need the medications and buy a drug plan during the open enrollment period that runs from October 15 to December 7. However, you will then have to pay a lifetime penalty of a 1% increase in your premiums for every month that you did not have creditable drug coverage. That means if you went without drug coverage for three years, your penalty would be a 36% lifetime increase in your premiums.